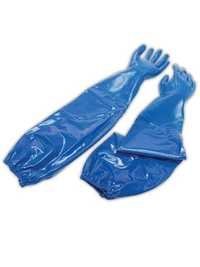 North By Honeywell : NK803ES Nitri-Knit™ - Supported Nitrile Gloves
Product Description
North By Honeywell : NK803ES Nitri-Knit™ - Supported Nitrile Gloves
High performance supported nitrile gloves with numerous comfort and protection options.
Features and Benefits :
High nitrile content offers superior resistance to cuts, snags, abrasions and punctures.
Gloves are free of latex proteins which can cause allergic reactions.
Comply with USDA and FDA regulations, 21 CFR, for use in food processing. Gloves will not swell, sag or weaken from fat absorption.
Outperforms supported natural rubber, neoprene and vinyl gloves when exposed to solvents, caustics and animal fats.
Interlock knit liner gives gloves added strength for resistance to cuts, snags, abrasions and punctures while adding comfort to wearer. Hand portion is treated with a permanent anti-bacterial and anti-mildew agent.
Unique textured finish provides excellent grip on oily, wet or dry objects.
5 hand sizes available for a comfortable fit.
True dip coated glove has a permanent bond of nitrile to inner-liner.Won't peel apart like glued-in liners.
NK803ES is available with extended sleeve (total length 26") for protection up to shoulders.
Gloves can be laundered for extended use.
To make gloves easy to sort after laundering, each Nitri-Knit glove contains color coded stitching inside the glove, in addition to having the size clearly marked on the outside.
Sizes: 7, 8, 9, 10, 11
Description: Blue, interlock liner
Grip/Cuff: Rough/elastic
Length: 26"
Contact Us
Office No-121, Shastri Market, Maharani Road, Indore, Madhya Pradesh, 452007, India
Phone :+918068091433