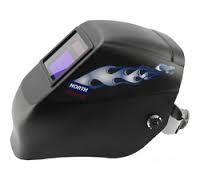 North By Honeywell : 812920 Welding Helmet
Product Description
North By Honeywell Make : 812920 - Tigerhood Futura Auto darkening welding helmet
Put ADF technology to work : -
The Tigerhood Futura 2999 continues to set the standard for performance and innovation with the introduction of models equipped with quality, reliable auto darkening filters that take advantage of advances in ADF technology. A quality welding helmet with auto darkening filter increases productivity, improves quality, reduces downtime and rework, lowers injury and workers compensation costs.
Rugged, reliable performance :
Tigerhood high performance ADF helmets are engineered to provide exceptional performance across the whole spectrum of arc welding processes. Built-in ruggedness and advanced technology ensure that they work the first time and every time all shift long.
Feature :
Lightweight helmet with classic 3C free floating headgear, stable and balanced for improved productivity.
High performance material, unlike any other thermoplastic welding mask.
Increased impact resistance.
Higher melting point / greater heat resistance.
Greater chemical resistance.
Greater resistance to scratching and cracking.
Easy-to-use front loading glassholders
Comfortable, free floating headgear
Greater heat resistance
Better dimensional stability at elevated temperatures
Higher melting point
Extended service life, lower cost
Solar powered, no batteries to change
Lithium battery back-up
Fast, reliable switching speed
Constant UV/IR protection
Best optical quality in the industry
Can be used in most welding applications
Contains sensitivity adjustment
Perfect price/quality report
Technical :
Description: Thermoplastic Welding helmet
Glass holder: 90mm x110mm
Article number: 812920 complete with fully variable 4-9/13 ADF (V913)
Materials: Propionate
Weight: 410 gr. (ex. Welding filter)
Marking : EN 175
Contact Us
Office No-121, Shastri Market, Maharani Road, Indore, Madhya Pradesh, 452007, India
Phone :+918068091433