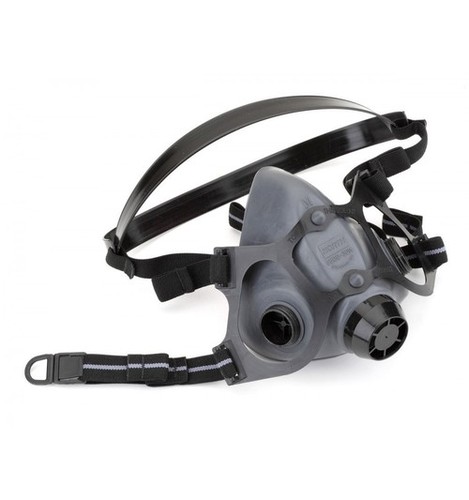 Honeywell: 550030M Half Face Mask
Product Description
North By Honeywell Make: 550030M Half Face Mask
Product Description :
North 5500 Series half masks consist of a facepiece, head harness, cartridge connectors and exhalation valve. Half masks are available in three overlapping sizes of small, medium and large. When used with the appropriate cartridges, filters and/or adapters, and within the appropriate Maximum Use Concentrations (MUC), North 5500 half masks provide protection from gases, vapors and particulates.
Material Composition :
The North 5500 half masks are latex free
Facepiece :
5500 facepiece

: Thermoplastic elastomer that contains silicone
Cartridge connectors :

Polypropylene
Inhalation valve

: Rubber
Exhalation valve

: Rubber
Exhalation valve seat :

Polyphenlene oxide
Exhalation valve guard :

Polyisoprene
Cradle Suspension :
Cradle straps

: Polyethylene
Upper head straps

: Nylon, woven elastic
Lower head straps :

Nylon, woven elastic with reflective stripe

Yoke : Polyethylene

Hook & eye :

Polypropylene
Slide :

Polyethylene


Weights :
Weight does not include cartridges or filters
5500 Half Mask 3.84 oz. (110 grams)
Certification :
Approved by the NIOSH

as: air-purifying respirators when used with North cartridges and/or filters.
Contact Us
Office No-121, Shastri Market, Maharani Road, Indore, Madhya Pradesh, 452007, India
Phone :+918068091433