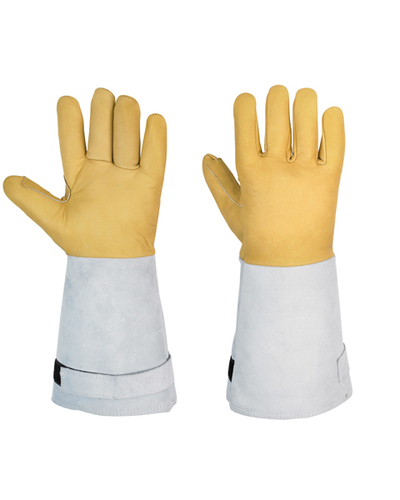 Honeywell : 2058685 Cryogenic Gloves
Product Code : 104
Product Description
Honeywell : 2058685 Cryogenic Gloves
Feature :
Water-repellent silicone cowhide grain leather glove. Fully lined with 2 aluminium / fleece layers.
Gunn cut, winged thumb, crispin type.
Reinforcement between thumb and index.
200 mm split leather cuff. Velcro adjustment strap on side of the palm. Thickness leather only 1.1/1.3 mm
Resistance
The silicone cowhide grain leather ensures good flexibility, even at a low temperature as well as water repellence and good mechanical protection.
Its polar double insulation offers outstanding protection against the cold and rays. The reinforcement between the thumb and index finger increases the glove's mechanical resistance and durability by strengthening the areas of wear
Description:


Water-repellent silicone cowhide grain leather glove.
Fully lined with 2 aluminium/fleece layers.
Gunn cut, winged thumb, crispin type.
Reinforcement between thumb and index.
200 mm split leather cuff.
Velcro adjustment strap on side of the palm.
Product Technology : Cut and Sewn
Thickness : leather only 1.1/1.3 mm
Harmlessness :
In conformity with the European standards.
Dexterity : Class 4
Size : 9/10
EN 388 - Mechanical hazards
Abrasion resistance : 3
Cutting resistance : 2
Tear resistance : 2
Perforation resistance : 2
EN 511 - Protection in cold temperatures
Resistance to conductive cold: 2
Resistance to contact cold: 2
Water permeability: 0
Contact Us
Office No-121, Shastri Market, Maharani Road, Indore, Madhya Pradesh, 452007, India
Phone :+917042346220