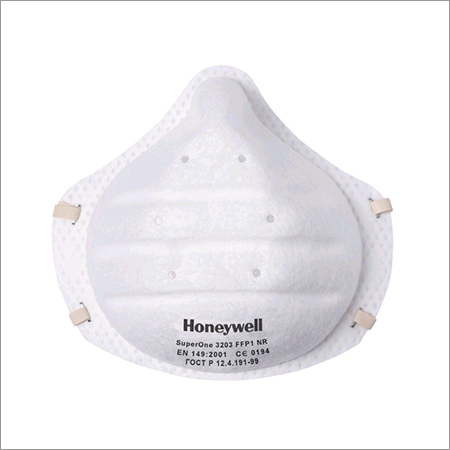 Honeywell : 1013203 SuperOne 3203 - Molded Cup - FFP1 Particulate Respirator
Product Description
Honeywell : 1013203 SuperOne 3203 - Molded Cup - FFP1 Particulate Respirator
Unique design and shape
Pre-formed shell: rigid half-mask: the mask shape is maintained throughout use, for increased comfort.
Internal volume: facilitated communication, no pressure on the face for increased comfort.
Inner layer, ultra-light and ultra-soft: soft and pleasant touch to the skin to avoid irritation and
Increase comfort, easy breathing for greater acceptance over time.
Upper preformed section near the nasal outline: quick and easy adjustment, highly effective and safe, fits all faces.
Moving nasal element: compatible with goggles, excellent field of vision.
Protected valve membrane on the front: minimal risk of damage and leakage for
Increased safety.
Feature :
Exclusive design and shape: semi-rigid mask, great inner volume, upper part pre-formed, nose area is free of nose-bridge, ultra-light (7 g) and ultra-soft inner veil, supple and resistant twin elastics, stapled on ear tabs. Latex-, silicone- and PVC-free.
Benefit :
One size fits all. No oppression on face for more comfort. Quick and easy adjustment. Highly
Efficient and secure. No interaction with the filtering part so no risk of leakage or irritation.
Ease of speech movements. Compatibility with spectacles and excellent field of vision. Soft and pleasant contact to the skin to avoid irritation and improve acceptance. No restrictive use. Environment respect.
Technical :
Standard : EN149.2001
Mask Type : Molded Cup
Protection Class : FFP1
Valve : No
Straps : Double elastics
Mask Size : Medium
Latex Free : Yes
PVC Free : Yes
Silicone Free : Yes
Contact Us
Office No-121, Shastri Market, Maharani Road, Indore, Madhya Pradesh, 452007, India
Phone :+918068091433