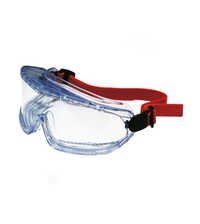 Honeywell: 1007506 - V-MAXX Chemistry, Ventilation Indirect , Clear Acetate FogBan Lens
Product Description
Honeywell: 1007506 - V-MAXX Chemistry, Ventilation Indirect , Clear Acetate FogBan Lens, Neoprene Strap
A sporty style goggle.
Can be used with most prescription glasses and /or most respirator half masks. Indirect ventilation and anti-splash system.
Pivoting headband clips to adjust around hard hats or hearing protection.
Fits a wide variety of workers.
Sleek wrap-around style with a 180 degree field of vision.
Feature :
A sporty style for increased wearer acceptance 180° field of vision for distortion free peripheral
vision. Rotating strap attachments. Passes impact grade B for medium energy and also meets certification for molten metal.
Benefit : -
It fits a wide variety of workers and can be worn over prescription eyewear and with half-mask
respirators. The strap attachment system provides easier use with hard hats.
Feature :-
Neoprene strap for use in chemical industry
Feature : -
Special concept of indirect ventilation
Benefit :
It is compliant with splash-resistance test
Technical Description:
Eyewear Type : Goggles
Shade Len Color :- Acetate Lens - Clear
Lens Coating :- Anti Fog + Anti Scratch
Headband Clip : Neoprene strap
Body :Indirect Ventilation
Dielectric :No
Approval : EN166.1.F.34
Contact Us
Office No-121, Shastri Market, Maharani Road, Indore, Madhya Pradesh, 452007, India
Phone :+918068091433