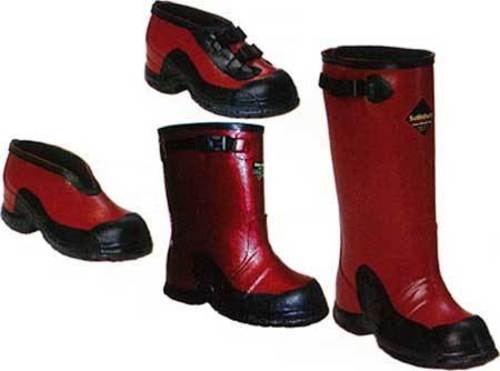 Dielectric Footwaer
Product Description
Protect each individual worker with ASTM Dielectric Footwear. 100% Tested & A safer alternative to grounding mats.
Salisbury's dielectric boots are 100% waterproof and made from premium grade ozone resistant rubber. The flexible hand-layered construction includes a durable nylon lining for easy on/off. Salisbury Dielectric Footwear conforms with ASTM F1117 and is tested to ASTM F1116 at 20kV. The sole has a durable construction with a non-skid bar tread outsole. The attached buckle and hardware is nonmetallic. Manufactured in the U.S.A.
Feature & benefits :
Protects ground workers from step and touch potential in the whole work zone, not just one confined work area, like a grounding mat. Can help reduce the amount of electrical workers in a work area since they are not confined. Allows personnel to safely mount and dismount equipment in the work zone. Allows personnel to safely retrieve Material from truck bins. A must for any underground application and storm restoration. Without dielectric footwear, the ground crew has no additional protection against step potential if a catastrophic failure occurs. All of Salisbury's ASTM Dielectric Footwear conforms with ASTM F1117 and is 100% tested to the electrical hazard requirements of ASTM F1116 at 20,000 volts.
Contact Us
Office No-121, Shastri Market, Maharani Road, Indore, Madhya Pradesh, 452007, India
Phone :+918068091433